New website -

coming on 7th November
New CD "Next Time" available from 7th November through the website, Amazon and all good music shops. "Next Time" is distributed through Proper Distribution.
Next Time

"Next Time" was recorded at Sound Sense and mastered at Castlesound Studio. The CD includes the prize-winning songs "Carrion Craw", "What's waiting for you", "I think he liked the ladies", "Dig" and "Next time". Other musicians on the CD are Clive Gregson, Steven Polwart, Wendy Weatherby, Russell Ballantyne, Fiona Cuthill , Mairearad Green, Davie Scott, Kris Koren and John Weatherby. The CD was engineered and co-produced by Kris Koren .

Tracklist
1. Dig
2. What's waiting for you
3. Fishing for the blues
4. Carrion Craw
5. All your troubles
6. Jack Jackson
7. That's what falling's for
8. Could fade away
9. Send me another smile
10. I think he liked the ladies
11. Next time
12. Sleepyhead
Edinburgh Festival: Robert Louis Stevenson- songs and music
The performance at the Acoustic Music Centre on 16th August was a great success - completely sold out and a great response from the audience. Thanks to Robin Laing, Wendy Weatherby, Fiona Cuthill and Norman Chalmers. Many thanks to everyone who came along.
The show earned this five-star review from Alistair Grant in Broadway Baby
A Treasure Trove of Music
An evening dedicated to songs and music inspired by Stevenson and his writings, this one-off performance of the critically acclaimed CD 'From a Garden of Songs' was a rare treat in a festival, bursting with a myriad of musical offerings. Folk artists Tom Clelland, Robin Laing, Wendy Weatherby, Norman Chalmers and Fiona Cuthill played the new musical arrangements of poems from Stevenson's 'A Child's Garden of Verses' with measured skill and modest flair, chatting cosily with the audience between songs and exuding warmth and passion. There was also a stirring performance of one of Stevenson's own long-lost musical compositions, 'Aberlady Links'.
The evening kicked off with 'A Mile and a Bittock', a relatively obscure piece of poetry by Stevenson set to music by Alan Reid of the Battlefield Band, with an added chorus by Reid in order to provide further clarity to the mysterious work. Time and time again, the music complements the rhythm and pace of the poetry perfectly; indeed, Clelland told us repeatedly that Stevenson's poetry was easy to put to music due to this natural beat. Countless highlights follow, with both 'The Swing' and 'The Shadow March' showcasing a breathtaking approach to folk music and a deep understanding of the poems themselves. These might be mostly poems for children, but they still harbour a real depth of emotion that these compositions effortlessly bring to the fore.
At one point Clelland wonders aloud to the audience why it is that Scotland celebrates Burns by hosting Burns Suppers and gorging on haggis and whisky, and yet the life and work of Robert Louis Stevenson, in comparison, is largely ignored. Surely, Clelland asks, Stevenson continues to touch just as many, if not more, lives in Scotland today? It's a fair point, and one that this evening goes some way to addressing.
These musical compositions get right to the very heart of Stevenson's words, capturing their essence in a way that only music can. If Stevenson were able to, it's not too much of a stretch to imagine him giving such a project his unequivocal blessing and support.
Edinburgh Folk Club Songwriting Competition
Tom won first and second prizes in this year's Edinburgh Folk Club Songwriting Competition. "Dig" won first prize and "The Wind" won second prize. Thanks to Paddy, Alan, Jack, John and the judges, Kathleen Smith, Madelaine Cave and Jim Malcolm.
NO COPIES OF LITTLE STORIES LEFT
There is a possibility "Little stories" may be reissued later this year with additional tracks. Thanks to everyone who bought a copy.
FROM A GARDEN OF SONGS - ON SALE FROM THE SHOP. You can read some of the great reviews below.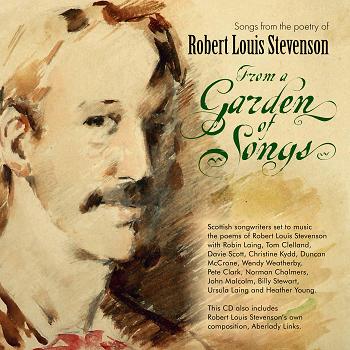 "From A Garden of Songs" produced by Tom, in which Scottish songwriters set thirteen of their favourite poems from The Child's Garden of Verses to music.

With songs and music by Robin Laing, Tom Clelland, Davie Scott, Christine Kydd, Duncan McCrone, Wendy Weatherby, Pete Clark, Norman Chalmers, Billy Stewart, John Malcolm, Ursula Laing, Mair Sethi, Heather Young, Rebecca Keay and Kris Koren.

The CD also includes Wendy Weatherby's arrangement of Robert Louis Stevenson's own composition "Aberlady Links" and is accompanied by a 28-page colour booklet of the poems with wonderful artwork by Peter Nardini.
Reviews below from Froots, Taplas, Scotland on Sunday,
Living Tradition and Scottish Memories
Review from June issue of Froots - the U.K.'s leading folk music magazine

A group of Scottish Songwriters have set to music 13 poems by Robert Louis Stevenson. These deceptively simple poems find infinity and eternity in ordinary things, and the newly- composed musical settings underpin the poetry's Zen - like simplicity and intensity. The measured and evocative instrumental accompaniment is perfectly judged and is provided by A - list musicians on guitar, cello, harp, keyboards, fiddle, violins, mandola. whistle, clarinet, concertina, bouzouki and bass. The various songwriters have sought to capture the music (as Stevenson does in words ) the autumnal beauty of childish things recalled in adulthood. Especially successful is the quirky lyricism of Tom Clelland's compositions for KEEPSAKE MILL, PICTURE BOOKS IN WINTER and HOW FAR IS IT TO BABYLON? Tom's voice is slightly reminiscent of a young Cat Stevens, and these songs would not sound out of place in ' Tea for the Tillerman'.
Equally fine are Robin Laing's arrangements and renditions. His composition for WHERE GO THE BOATS? is an instant classic, with a yearning melody and addictively hypnotic harp riff. Robin has also composed rich and plangent tunes for THE LAMPLIGHTER, SHADOW MARCH and BLOCK CITY, which fit the poems so snugly that it's hard to believe that words and music were created 120 years apart.
The album includes Wendy Weatherby's stately arrangement of one of Stevenson's own airs, ABERLADY LINKS, here performed and recorded for the first time since Stevenson wrote it. The CD's attractive booklet sets out each of the poems and, on each facing page, matches it with a Peter Nardini painting that impressionistically reflects the poem. The whole package is a splendid labour of love. With each listen I grow fonder of this elegant, moving album."
From Froots - the UK's leading folk music magazine
"…The poems make good songs. Specially composed tunes, the arrangements, the singing and playing combine to bring the poems to life in a way that is, surprisingly, both innocent and sophisticated.

"Peter Nardini's paintings illustrate each poem on the sleeve, making this suitable for children and equally appropriate to nurture the child in us all."
From Taplas, the voice of Folk Music in Wales and the Borders
"In this little gem of a CD, (Stevenson's) exquisite poems are very tastefully set to music and performed by a variety of contemporary folk singers who make each poem spring to life.

"This is an excellent example of giving a new lease of life to some beautiful short poems from one of Scotland's greatest authors.
"An excellent production."

Scottish Memories Magazine February 2010

"Brought into being by Lanarkshire songwriter Tom Clelland - who, with Robin Laing, contributes the bulk of the music and songs - this is a magical evocation of Robert Louis Stevenson's poetry for the child in us all. Peter Nardini's luminous paintings shine throughout the 28-page cover notes, and contributions from fiddler Pete Clark, cellist Wendy Weatherby and singers Christine Kydd, Davie Scott and Duncan McCrone are other glowing facets of this wee gem."
Scotland on Sunday 21st February 2010 - four stars out of five

"... The poetry of Robert Louis Stevenson, for so long neglected, is brought to life with gusto here by the addition of Scottish musicians of note. This could have gone so pear-shaped in the way that most folk concept albums go… This one differs in that the source material is so vibrant and is handled with customary reverence.

"Davie Scott positively beams his way through The Land of Counterpane. Christine Kydd is an absolute delight on Escape at Bedtime. Robin Laing reassigns some of his best tunes to stupendous effect and provides rock-steady guitar backing throughout. The CD even includes a song for which RLS contributed the tune, handled with due care by Norman Chalmers and given a suitably appropriate reprise by Wendy Weatherby.

"I let my son listen to the songs and he loved them all. As with his prose work, Robert Louis Stevenson had an inexplicable connection with young people.

"If I had to choose an outstanding moment it would be Christine Kydd's handling of Escape at Bedtime but as far as I'm concerned it's all good. "

Living Tradition Magazine April 2010


The poems in the 28 page booklet are illustrated by paintings by one of Scotland's finest artists,
Peter Nardini.